TELEHEALTH SERVICES RESOURCES & INFORMATION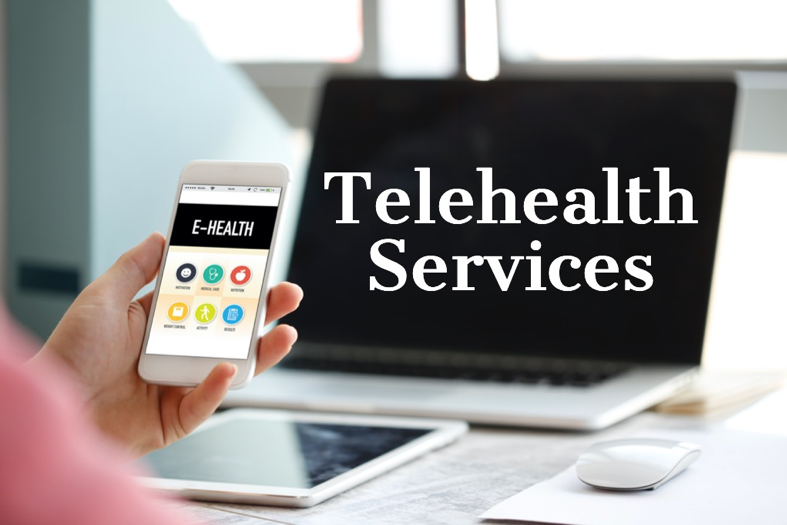 TELEHEALTH SERVICES RESOURCES & INFORMATION
From the Oregon Health Authority (OHA)
OHA is expanding coverage of telehealth and telephone services in light of the COVID-19 outbreak. Access the Oregon Health Plan coverage of telephone/telemedicine/telehealth services updated March 20, 2020 here: https://www.oregon.gov/oha/HSD/OHP/Announcements/Oregon%20Health%20Plan%20coverage%20of%20telemedicine%20services.pdf
From the American Medical Association (AMA)
The AMA maintains updated information on telemedicine including: a quick guide, policy, coding and payment, practice implementation and other helpful resources on telemedicine: https://www.ama-assn.org/practice-management/digital/ama-quick-guide-telemedicine-practic
From the Department of Health and Human Services (HHS)
On March 20, 2020, the HHS Office for Civil Rights (OCR) announced that it is exercising its enforcement discretion and, effective immediately, will not impose penalties on physicians using telehealth in the event of noncompliance with the regulatory requirements under the Health Insurance Portability and Accountability Act (HIPAA). Covered health care providers subject to the HIPAA Rules may seek to communicate with patients, and provide telehealth services, through remote communications technologies. Some of these technologies, and the manner in which they are used by HIPAA covered health care providers, may not fully comply with the requirements of the HIPAA.
The notice from HHS, which includes examples of technology that may be used by providers, can be accessed here:
https://www.hhs.gov/hipaa/for-professionals/special-topics/emergency-preparedness/notification-enforcement-discretion-telehealth/index.html
Medicare Telemedicine Health Care Provider Fact Sheet:
https://www.cms.gov/newsroom/fact-sheets/medicare-telemedicine-health-care-provider-fact-sheet
From the Community Oncology Alliance (COA)
COA's webpage for COVID-19 Practice Resources and Protocols contains many links to resources and information and tools for the oncology practice including COA's webpage for COVID-19 Practice Resources and Protocols contains many links to helpful information including a very helpful Medicare Telehealth Cheat Sheet: https://communityoncology.org/wp-content/uploads/2020/03/MedicareTelehealthGuideFinal031820.pdf
Access the COA COVID-19 resources here:
https://communityoncology.org/coronavirus-covid-19-practice-resources-and-protocols/
Policy Updates from Private Payors – Expanded Telehealth Services and More from Regence BlueCross BlueShield of Oregon – Updated March 26, 2020
Regence BC/BS of Oregon has announced temporary updates to telehealth to expand medical and behavioral health telehealth services. In their announcement they provide the following information:
Telehealth services can be provided if:
You are an in-network provider and provide telehealth services to our Individual, group (including administrative only services groups who have the telehealth benefit) and Medicare Advantage members. You can verify your patients' telehealth benefits by viewing their benefit booklet on the Availity Provider Portal.

You are an out-of-network provider and provide services to our Medicare Advantage PPO members.

You conduct the telehealth visit with your patient using audio or video. We are following the U.S. Department of Health and Human Services' (HHS') lead on discretion with respect to HIPAA compliant platform requirements. Pulsara offers a free, HIPAA-compliant, video-enabled platform.

The services:

Are safely and effectively delivered via telehealth

Meet the code definition that is billed when provided via telehealth

Meet existing coverage criteria, including pre-authorization requirements and medical necessity
Member benefits and provider reimbursement
The visits are considered the same as in-person visits and are paid at the same rate as in-person visits.

We will cover the telehealth visit related to COVID-19 testing at no member cost share for our Individual, group and Medicare Advantage members. See below for information about coverage for COVID-19 testing.

The member's copay, coinsurance and deductible will apply to telehealth services, if applicable.

For claims to process correctly and for you to receive reimbursement consistent with an in-office visit, the place of service (POS) must be either POS 11 (office) or intensive outpatient (IOP). The GT modifier will indicate that the services were rendered via telehealth.

Note: The location of the service does not need to be in an office. However, claims must be submitted using the instructions above to be paid at the same rate as an in-person visit.

Claims can be submitted immediately.

Note: We will continue to cover the medical and behavioral health codes, as outlined in our Virtual Care (Administrative #132) reimbursement policy. Claims submitted following the guidelines in this policy will be paid as they have been.
In-network providers can provide telehealth services to Blue Cross and Blue Shield Federal Employee Program® (BCBS FEP®) members. View the BCBS FEP telehealth expansion information.
For more information on Regence BC/BS Covid-19 updates and resources go to: https://www.regence.com/provider/library/whats-new/covid-19.
From UnitedHealthcare – Updated March 27, 2020:

Expanded Provider Telehealth Access - Through June 18, 2020, UnitedHealthcare will waive the Centers for Medicare and Medicaid's (CMS) originating site restriction and audio-video requirement for Medicare Advantage, Medicaid and commercial members. Eligible care providers can now bill for telehealth services performed using audio-video or audio-only, except in the cases where we have explicitly denoted the need for interactive audio/video such as with PT/OT/ST, while a patient is at home.
Benefits will be processed in accordance with the member's plan. Member cost-sharing will be waived for COVID-19 testing-related visits during this national emergency.
Link to UnitedHealthcare's telehealth services update: https://www.uhcprovider.com/en/resource-library/news/Novel-Coronavirus-COVID-19/covid19-telehealth-services.html

Learn more about UnitedHealthcare's response to COVID-19.
From Aetna and CVS Health:
If you request testing related to COVID-19, we'll waive your Aetna patient's cost sharing.

Aetna Commercial patients pay $0 for covered telemedicine visits until June 4, 2020.

Until further notice, Aetna is also expanding coverage of telemedicine visits to its Aetna Medicare members, so they can receive the care they need from you without leaving their homes. With this change and new flexibilities announced by the Centers for Medicare and Medicaid Services to help combat the virus, Aetna Medicare members can now see their providers virtually via telephone or video.

Aetna is offering its Medicare Advantage brief virtual check-in and remote evaluation benefits to all Aetna Commercial members and waiving the co-pay.

Care packages will be sent to Aetna patients diagnosed with COVID-19. Through Aetna's Healing Better program, Aetna Commercial and Medicare Advantage members will receive CVS items to help relieve symptoms as well as personal and household cleaning supplies to help keep others in the home protected from potential exposure. Call the number on your Aetna patient's ID card to register a recently diagnosed patient.

Patients won't have to pay a fee for home delivery of prescription medications from CVS Pharmacy®.

We're waiving early refill limits on 30-day prescription maintenance medications for all Commercial members with pharmacy benefits administered through CVS Caremark.
https://www.aetna.com/health-care-professionals/provider-education-manuals/covid19-letter.html
From Health Net Oregon:
In order to ensure that all Health Net members have needed access to care, we are increasing the scope and scale of our use of telehealth services for all products for the duration of the COVID-19 emergency. These coverage expansions will benefit not only members who have contracted or been exposed to the novel coronavirus, but also those members who need to seek care unrelated to COVID-19 and wish to avoid clinical settings and other public spaces.
Effective immediately, the policies we are implementing include:
Continuation of zero-member liability (copays, cost sharing, etc.) for care delivered via telehealth*

Any services that can be delivered virtually will be eligible for telehealth coverage

All prior authorization requirements for telehealth services will be lifted for dates of service from March 17, 2020 through June 30, 2020

Telehealth services may be delivered by providers with any connection technology to ensure patient access to care**
*Please note: For Health Savings Account (HSA)-Qualified plans, IRS guidance is pending as to deductible application requirements for telehealth/telemedicine related services.
**Providers should follow state and federal guidelines regarding performance of telehealth services including permitted modalities.

Providers who have delivered care via telehealth should reflect it on their claim form by following standard telehealth billing protocols in their state.
Health Net Oregon notice on expanded telehealth services: https://www.healthnetoregon.com/newsroom/covid19-telehealth-guidance.html
From PacificSource:
PacificSource has expanded coverage to allow most provider types to bill appropriate E/M services that can be performed in real time via telehealth. PacificSource reimburses for telehealth services as if the service was done in the clinic setting (for services appropriate for telehealth delivery).
For more information go to: https://www.pacificsource.com/providers/